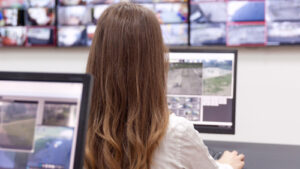 NSI Gold accredited security service provider and installer Professional Surveillance Management (PSM) has turned two years old and according to Co-Founder and Director Kerry Jones it has been an amazing rollercoaster ride:  "The business, team and client base has grown, and with it, the number of my grey hairs," says Kerry.
"The support (co-founder) Andy Saile and I continue to receive from family, friends and associates in the industry has been truly humbling.  We appreciate every single person's word of advice and encouragement.
"Sometimes, Andy and I are given credit for the results and achievements so far, and although flattering; they are misplaced," she continues. "A business is nothing without their front end and PSM is absolutely no exception.  Where would we be without our crime fighting team of experienced operators and administrative support?  We are lucky to have found employees of such quality who have strong customer service values, excellent skills, unrivalled work ethics and a true passion for what they do.
"Year three here we come!  We are excited to develop further the business, service delivery and the skills of the team; and are looking forward to the next chapter in our professional lives."