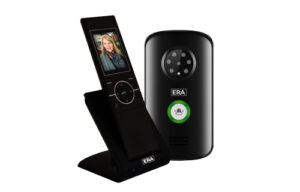 Research undertaken by ERA, indicates that over 90% of consumers consider security as the main benefit of installing a video intercom system. The company surveyed opinions from householders on the top reasons for installing a video intercom system.
Commenting on the findings, marketing manager, Tania Tams explained, "The results of our survey demonstrate a clear demand amongst consumers for forward thinking home security products. Video intercom systems provide a homeowner with peace of mind when it comes to inviting visitors into the home and are a practical solution to the growing issue of doorstep crime. "
Tania continues, "The ability to talk to a visitor without opening the door is important to many vulnerable people and an intercom system offers a much higher level of security compared to other methods, such as a door chain. In the case of the ERA Video Intercom, the added advantage of being able to review the image of the caller after their visit is invaluable, especially in the event of suspicious activity."
Whilst security was cited as the primary motivation for the majority of respondents, others surveyed recognised alternative reasons, including 'access', being able to open the door to visitors from a remote, portable device, as well as 'choice', having the ability to see who was at the door prior to deciding whether to open it , as key benefits of a modern video intercom system.