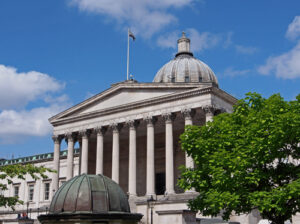 University College London (UCL) is committed to keeping students, staff and visitors as safe as possible. This is achieved thanks to an on-going partnership and framework agreement with Reliance High-Tech.
With more than 21,000 staff and nearly 40,000 students from 150 different countries, UCL is now the largest higher education institution in London comprising a complex multi-site estate of over 230 historic and modern buildings.
The team at UCL oversees a range of security issues on a regular basis including the provision of ID and/or entry cards, the installation and maintenance of CCTV and access control systems, the management of a video management system (VMS), as well as offering general advice on any security matters.
Don Dixon, Reliance High-Tech's corporate solutions manager said: "We were delighted to win the contract.  We welcomed the opportunity help maintain a consistent security solution across UCL's entire multi-site estate, which includes over 900 cameras and 2,000 doors, as well as almost one petabyte (PB) of electronic CCTV storage."
After carrying out a full assessment of UCL's requirements, Reliance High-Tech deployed seven full time personnel. This team comprises two senior service engineers, who are primarily responsible for overseeing commissioning, as well as four service engineers, who focus on service activity and planned preventative maintenance (PPM). These personnel are complemented by a dedicated designer, who helps to turn projects around quickly and efficiently and understands the requirements of UCL when working with other on-site mechanical and electrical contracting teams.
Don Dixon comments: "Uptime is crucial, as in the event of an incident, UCL needs to locate any evidence quickly. System design and accuracy is therefore a key part of our brief, and everything needs to be installed and commissioned to the same high standards."