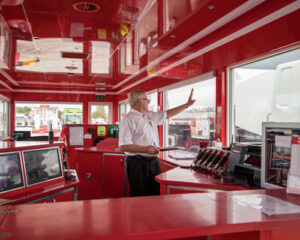 A Stanley Security installation has contributed to Formula Services winning Truck Stop of the Year.
Located in Ellesmere Port, Formula Services Premier Truck Stop offers customers a fitness room along with lounge/relaxation areas with massage chairs, Sky sports and Xbox usage, to shower, laundry and catering facilities and even the use of free bicycles to get out and about.
A key part of its success has been its onsite security as Gerry Graham, General Manager of Formula Services, states: "Security is vital to our business and our clients/customers, who all carry materials/items of value. On our new website we heavily promote our site security (36 cameras, manned security guards, ANPR) as this is what hauliers/customers require and, I personally believe, insurance companies also want this level of security. I believe that along with our superb facilities, the security measures that we have in place most definitely contributed towards our winning of the Truck Stop of the Year award and our accreditation with TAPA (LEVEL 3 PSR).  I believe we will also start to see additional benefits as we enter 2019."
Stanley Security designed and installed a 36-camera CCTV system with six monitors. A mostly external system to protect the site from unwanted visitors; static cameras were used for perimeter detection and PTZ cameras deployed in key locations.
A key challenge involved utilising the existing onsite cabling.  A solution was found involving Dahua extenders to boost the signal to the furthest points then powering the cameras via switches at the bases of the camera towers. This enabled the cable to be used without compromising the quality of the CCTV system.
"Having spoken with the security staff who operate the equipment they believe the clarity of the pictures, along with the easy to use controls, are the main benefits.  Our site customers are also impressed with the system/cameras," said Gerry.
The new CCTV system was financed under Stanley Assure, a finance solution offering technology without the risks of ownership and with evenly spread payment terms. Gerry comments: "Having the costs spread over the length of the deal was deemed the best option for the business at that time.  We were also spending money upgrading other site facilities at this time so again this made total sense."