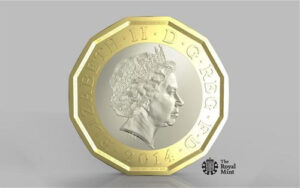 Codelocks has issued a reminder to users and installers of coin-operated lockers that they now have a matter of months before the Royal Mint introduces the new pound coin into circulation.
The shape of today's pound coin has remained the same for over 30 years, which helps to explain why there is an estimated £45m worth of counterfeit pound coins in circulation. Fraudsters have become adept at producing high-quality counterfeits, which are increasingly difficult to detect.
To protect the integrity of the currency, from March 2017 the Royal Mint is introducing a new 12-sided, bi-metallic, bi-colour pound coin that incorporates new anti-counterfeiting technology. While the Royal Mint expects the new features to safeguard the coin against counterfeiting, it will come at a considerable cost to businesses that will have to upgrade or replace their coin-operated equipment.
Many sports centres use coin-operated lockers in their changing areas today. Typically, these take a one-pound coin to release a key, which is returned to the user when they collect their kit. The compatibility of the new pound coin with existing locks depends on the mechanism. While the new coin is roughly the same diameter as the current coin, its shape, weight and thickness are different – all features that affect the extent of the upgrade required.
"We expect to see sports centres and gyms use this significant change to move away from coins," commented Grant Macdonald, Managing Director, Codelocks. "Gym operators are switching from coins today – even before any upgrade is required – because they are looking for a more convenient locker solution for their users and staff. Installing keypad lockers means that users don't have to worry about having change on them, nor do they need to carry a key while using the facilities. It means no more lost keys and no overnight 'locker-hogging', as staff can easily clear the lockers at the end of the day using a master code."
For those considering alternatives to coin-operated lockers, as well as digital keypad locks, there are affordable card-based solutions, and locks that facility managers and management can program and manage using their smart phones.
The current pound coin will be "demonetised" in the second half of 2017, following a period of just six months of co-circulation with the new coin, however the Royal Mint expects the new pound coin to be around for the next 30 years.