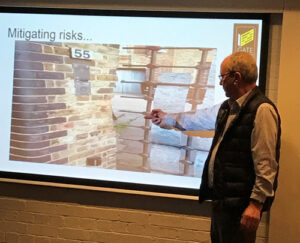 Managing agents, facilities managers and other property-related professionals have a legal and moral responsibility to ensure powered gates and barriers at commercial residential developments meet the latest safety standards. This was the opinion of Richard Jackson, CEO and Founder of charity Gate Safe, who was speaking at an industry event organised by Interphone. He explained that under current laws, property management businesses could face financial penalties of up to £500,000 should an accident occur and they are found to be negligent.
"There have been ten incidents in the past ten years where people have been seriously injured or killed by unsafe gates," explains Jackson. "Near misses are still happening largely because a significant proportion of gates and barriers are still unsafe and require an upgrade, so it is only a matter of time before another tragedy occurs if installation, maintenance and property management businesses fail to take the necessary action."
Richard went on to outline the steps needed to ensure the ongoing safety of electric gates and barriers, as well highlighting some of the common safety issues. He explained that all aspects of an integrated solution – including the motor, intercom system and safety devices – need to be manufactured, installed and maintained correctly. Managing agents also need to ensure that six-monthly risk assessments are carried out and acted on for all new and historical installations if they are to meet their duty of care and health and safety commitments.
Following on from Richard Jackson, attendees gained insight into automatic number plate recognition (ANPR) technology and how it is supporting higher levels of gate safety and security. The discussion focused on how systems can be used to control and operate electronic barriers and gates, providing real-time database checks, alarms triggers and notifications all adding extra layers of security to a site.
The final speaker of the event was Paul Collier, Interphone's Contract Maintenance Manager, who presented a case study to demonstrate how the company is working with managing agents to upgrade and maintain gates and barriers. He outlined a recent refurbishment project at Riverside West Car Park, an underground car park beneath a block of flats in South West London that is open to both the buildings residents and members of the public.
Following the success of the event, Interphone is hosting a further Automated Gate Safety seminar on Wednesday, 5th July 2017.