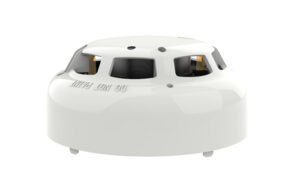 Hochiki Europe has launched a new range of sensors which incorporate short circuit isolators (SCI) which have the ability to identify and divert power from devices which have short circuited.
In some parts of Europe, legislation dictates that when a device on a life safety system is changed, the network must also be fitted with another isolator simultaneously. By having short circuit isolator technology built into the actual devices rather than in an SCI base, the new range reportedly offers a more efficient solution for specifiers and end-users, as additional bases don't need to be purchased.
The SCI sensor collection is a fully addressable range that includes a heat (ATJ-EN(SCI)) and multi sensor (ACC-EN(SCI)). The solutions provide end-users with real-time updates on performance, with LED status indicators clearly displaying when a sensor is polling, isolating, or in alarm.
As well as SCI technology, Hochiki Europe's new range features a number of additional benefits. The ATJ-EN (SCI) heat sensor, for example, combines both fixed temperature and rate of rise detectors for added reliability.
To give specifiers a greater range of options when selecting life safety solutions, the ACC-EN (SCI) features user-selectable modes. This means the sensors can be programmed to allow either the optical or thermal element to be active when detecting a fire. The sensor can be programmed to use both elements at the same time.
The SCI range will be enhanced further with the addition of a smoke sensor (ALN-EN), due to launch later this year.