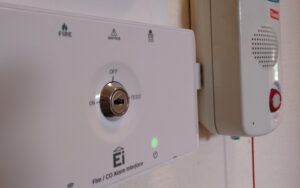 Sheffield City Council has completed a programme to upgrade its fire safety throughout its 1,134 sheltered housing properties using Aico's Multi-Sensor Fire Alarm. An additional 261 properties within three tower blocks will also benefit from the alarm following a fire risk assessment and advice from South Yorkshire Fire and Rescue.
The move to a single alarm specification enables the Council to standardise its fire detection systems across its entire sheltered property portfolio, making it easier to manage and reducing the chance of renewal using the wrong type of detector.
The multi-sensor alarm contains two sensor types, optical and heat, to constantly monitor smoke and heat levels, sending and receiving information via its detection software.  This sensor information alters the alarm's sensitivity and trigger points, automatically providing response and helping reduce potential false alarms.
Steve Batty, Electrical Team Manager, at Sheffield City Council, explains the decision to standardise on the Multi-Sensor: "The choice of detector depended on, amongst other things: the speed of response needed to provide adequate warning, the nature of the perceived fire hazards, the suitability for the environment and the need to minimise false alarms.  Being a Multi-Sensor it allows for better coverage where there is more than one type of fire risk i.e. a broader spectrum of fire detection. As these properties are now monitored, nuisance tripping needed to be reduced and the dust compensation feature of this model reassured us that this could be achieved over the lifespan of the unit."
The Multi-Sensor has a self-monitoring dust compensation mechanism incorporated into its software that monitors minute changes in dust levels, recalibrating the alarm trigger point as required.
The Multi-Sensors are officially being installed to Category LD2 (medium protection) but with alarms also in the bedrooms; which in most properties actually equates to the higher LD1 category. This level of protection was chosen by Sheffield City Council for sheltered properties, and consideration was given to the guidance within the Local Government Association's "Fire Safety in Purpose-Built Flats" publication.
Sheffield City Council also installed Aico's Ei414 Fire/CO Alarm Interface, which provides a dedicated connection between Aico Alarms and Warden Call systems.  The Ei414 is also used by the Council as an interface with the sprinkler system in a sheltered tower block.