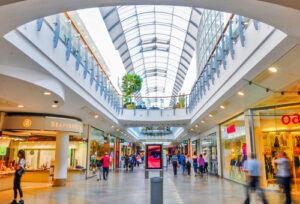 Looking to move to a totally IP surveillance camera network in the future but wanting to upgrade their current analogue cameras now, The Oracle shopping centre in Reading is fulfilling both criteria  by installing Predator Hybrid cameras from 360 Vision Technology.
The Oracle's 90 stores and shops increases Reading's retail outlet footage by thirty three percent. Visitors to the centre can utilise its two large car parks, which provide 2,300 vehicle spaces. Securing such a vast retail space presents a challenge for the on-site security team. The team consists of a mixture of guards in public areas of the centre, and operators working in the CCTV control room, from where they can view a network of over 300 static, covert, PTZ and dome cameras.
Andy Salmon, Security Manager at The Oracle said: "We had some concerns about investing in analogue cameras, only to be faced with them becoming obsolete and having to replace them in the future when we upgrade our control to IP, which will happen in the next round of planned rolling upgrade programme."
"We specified the 360 Vision Technology Predator Hybrid to provide both analogue and HD functionality in a single PTZ camera," explains Adam Parsonson-Smith, Technical Director at consultant Zada Technology. "When their installation moves to an HD infrastructure, the Hybrid camera's standard analogue 4:3 images can be replaced with a full HD 1080p output at the flick of a camera switch and with no additional equipment required."
Using the Predator Hybrid cameras, the Oracle security team can view all aspects of the shopping centre's malls and its vast car parks, in HD. These images are a great improvement on the original images and assist the control room team to easily identify suspicious and anti-social behaviour. Better quality images also ensure that 'known' offenders can be identified as soon as they enter the centre, and their behaviour monitored and recorded whilst they are on-site.
"High-definition images from the Predator Hybrid cameras mean we don't have to deploy our guards to every situation," explains Andy. "Using the new cameras we can monitor the situation and only deploy our manned guarding team if necessary – this frees them to perform other tasks and helps me as manager use the resources at my disposal for best effect and in the most economical way."