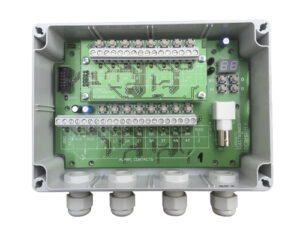 Luminite Electronics has launched a 16-zone receiver aimed at the CCTV and alarm market. The EasySwitch range comprises various models including external PIR detectors, wall switch transmitters, key fobs and wireless solutions for the retro control of HVAC systems.
EasySwitch has primarily been used in domestic applications such as home and garden lighting.  The introduction of the new 16-zone receiver (ESR8+8) means that EasySwitch external PIR detectors can now be used for commercial applications such as building site security and office protection. Set up is reported to be simple and EasySwitch PIR detectors will operate up to 1km from the receiver.
The new receiver comes with eight zones for alarms as standard and a further eight can be added using the expander module (ESEM8).  There are also two further auxiliary outputs which may be configured to provide global and grouped outputs as required. Remote Arm/Di-Arm is achieved using a wireless key fob but may also be hard wired if preferred.
The New ESR8+8  is compatible with all EasySwitch transmitters and PIRs and has a maximum learn capacity of 170 devices.