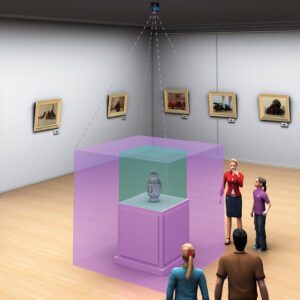 Sick has launched a configurable, plug-and-play 3D detection sensor for a range of detection, warning and security duties.
With on-board processing, the Visionary-T DT sensor can be easily set up to detect the presence or absence of 3D objects. It therefore offers an entry-level option for protection both of stand-alone objects or exhibits, and of large and complex wall-standing or mounted items such as furniture and statuary. Tasks include detecting whether an installation has been damaged, moved, added to or otherwise affected.
The sensor provides 3D image analysis with a simple yes/no, occupied or unoccupied, signal depending on the configuration with a sensing area range of up to 50 by 45 metres at 40 metres distance. A discrete output signal enables easy integration with an automated security system. Direct communication capability can be set up to a visual display, acoustic alarm or a PC, enabling activity recording for later appraisal of any incidents.
"The Sick Visionary-T DT allows users to integrate 3D vision into automated security systems without the need to process raw data or to perform complex programming," explains Neil Sandhu, Sick's National Product Manager for Imaging, Measurement, Ranging and Systems. "It therefore opens up opportunities for museums and galleries to easily achieve 3D detection tasks that were previously challenging to set up with one fixed camera."