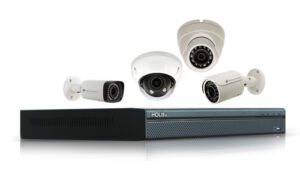 Johnson Controls has introduced Holis HD Tribrid video recorders that support SD analogue cameras, Illustra Essentials IP cameras, and a new line of HD cameras.
Available in 4, 8, and 16-channel models, the recorders feature intuitive search, record, zoom and export functions, as well as all channel synchronous real-time playback for simplified post-event forensics. With support for H.264 dual-stream video compression, the Holis HD Tribrid video recorders feature up to 12 TB of storage and 1080P real time-recording across all channels.
Combined with the new American Dynamics HD camera portfolio which includes fixed and varifocal bullet and dome cameras, the HD video solution provides an alternative to IP cameras and allows users to upgrade their system over time while protecting their CCTV investment.
The new fixed HD bullet and mini-dome cameras boast 3.6mm fixed lenses and provide up to 1080p video resolution (1920 x 1080) in an uncompressed format over the same standard coaxial cable that is used for standard CCTV cameras.  Where most dome cameras operate on two axes, the fixed mini-dome's 3-axis feature has a much wider field of view.
The varifocal HD bullet and dome cameras include a 2.7-12mm motorised lens and feature Smart Infrared for recording over 196 feet away in total darkness. The cameras are waterproof, rated IP67, and feature WDR making them an ideal solution for applications with volatile weather or lighting conditions.