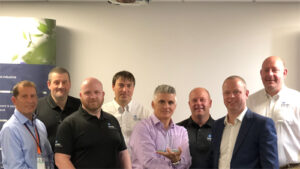 TDSi has announced that Sovereign Fire and Security has been awarded its 'Worldwide Systems Integration Partner of the Year Award 2019', in reflection of a successful twelve months which has culminated in a strategic growth in its sales of TDSi products.
TDSi's Sales Director, Alex Rumsey presented Sovereign Fire and Security with the award trophy and commented: "I am very pleased to present the team with this richly deserved award. TDSi only sells its products through our trusted partners and Sovereign Fire and Security has shown amazing performance in supplying and installing TDSi's systems over the last twelve months."
Reflecting upon the award, Sovereign Fire and Security's CEO Marek Jakubczyk also commented: "This award recognises the continued dedication of our sales and installation teams, and we are very honoured to receive it."
The award also recognises a number of international projects that Sovereign Fire and Security has designed and delivered in Europe and beyond.
Alex added: "Myself and the team at TDSi would like to congratulate and thank Sovereign Fire and Security for their continued hard work and support. We look forward to working together to continue growing our business relationship and providing the best systems and support for our joint customers."