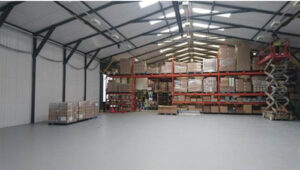 Hochiki Europe has made a series of strategic investments to bolster its production and supply chain facilities in the UK, created a number of senior appointments in EMEA, and made a series of promotions.
The business has increased capacity of its warehouse to 1,300sq/m of floor space at its European headquarters in Gillingham. The expanded warehouse will house a new area for special labelled products, such as marine devices, to meet rising demand. While a new barcoding system will mean customers are only invoiced once products are dispatched.
To support this market growth, new appointments include Renee Keenan, who joins Hochiki Europe as customer service section leader and Simon May who is the new technical manager for EMEA. Within Hochiki Europe's sales team, a number of key positions have been filled to further bolster export sales activity across Europe and Africa.
Richard Wharram has joined the business as the new regional sales manager for the North of England, Scotland and Northern Ireland. Martyn Hanks has been brought on board as the regional sales manager for Africa, while Hochiki Europe's Central and Eastern Europe sales activity will be overseen by Petia Simeonova.
Engineering technician Daniel Pamplin was one of eight internal promotions.