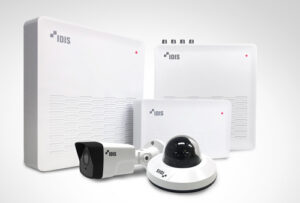 IDIS has launched a range of price competitive cameras and recorders for fast-fit and multi-site projects. The new DirectIP and HD-TVI DirectCX cameras and recorders have easy-to-use features to meet the surveillance demands of small to medium sized businesses and multi-site implementations such as retail outlets.
The 4- and 8-channel DirectIP and DirectCX recorders nad 4-channel compact models can be desktop or wall mounted.
DirectIP NVRs (DR-1304PC/DR-1308P) offer plug-and-play installation, built-in PoE switches and up to 70Mbps throughput with 240ips viewing and recording. The new DirectCX recorders (TR-1204C/TR-1208) work with the IDIS range of HD-TVI cameras and support long transmission distances over coax cabling.  Both IP and HD-TVI recorders feature one-click network configuration to support fast and simple multi-site rollouts.
New cameras include two full-HD IP dome and bullet cameras; three new HD-TVI IR domes and two bullets; plus, a further two 5MP high-performance models.