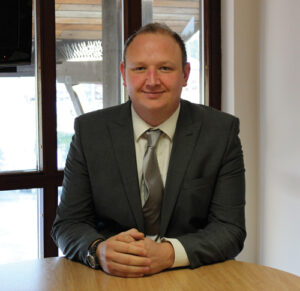 In October Peter Jackson took over the reins of the family run physical security business Jacksons Fencing from his predecessor Richard Jackson. We chat to him about his plans for the future. 
The perimeter protection / access control company has been trading since 1947 and started life in the timber fencing industry.  Today it is a multi-million pound operation, which incorporates a retail fencing as well as dedicated security offering, supplying both the domestic and international markets.
As the former Sales Director for Jacksons, Peter's previous area of expertise lies in servicing the high security sector of the business. He has been personally responsible for designing fencing product to reach SR4 and SR5 level LPCB accreditations.
PSI asked Peter about his plans for the future and how it feels to take over the family business:
Do you have any plans to change the company/products?
No, my philosophy is 'if it ain't broke, don't fix it' and that mantra can certainly be applied to our business.  The company has successfully ridden out the last economic recession and continues to make its mark in the highly competitive physical security arena.  So in short, we will continue to operate in both the domestic and commercial / security markets, in the UK and overseas. That said, we certainly will not be resting on our laurels. Ongoing new product development has always been a priority for Jacksons and becoming complacent is certainly not an option. We will continue to focus our efforts on the roll out of innovative solutions to physical security problems.
Which business areas do you expect to see most growth in?
We anticipate that given the current climate of heightened security as a result of terrorist threats, in addition to the increasingly sophisticated methods of attack employed by the average intruder, high security and government tested products and solutions will represent the biggest growth sector in the immediate future.
What security trends have you experienced over the years?
The internet has of course played a huge role in changing the way in which physical security is perceived. Just type 'security breach' into Google and the majority of the results will refer to dealing with unauthorised access to an information system, so undoubtedly the protection of critical data has definitely been a major priority for most companies. However, what needs to be remembered is that regardless of whatever latest anti-virus software is in place to ensure the continued safety of confidential information, it needs to be run from a data centre.  If the data centre itself is infiltrated, consider the potential catastrophic results. No software is capable of preventing an intruder from accessing the building and turning off the essential systems in place to protect against data security breaches …
Read the full interview in PSI magazine December 2014.