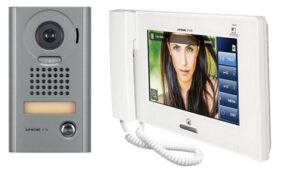 The pack contains all the necessary items for a single door video intercom. It is part of a larger range that can provide multiple door to multiple room systems.
The IP54, IK08 rated door station provides a 170° image with a stated 5 lux minimum illumination at the 50cm optimum focus point. Operation is stated to be from -10°C to +60°C. The internal Video Master Station features a 7" touch screen and has facilities for monitoring additional security devices. The system is expandable so that up to 4 doors can be monitored and you can connect to up to 7 sub master stations.
Getting Started
The system is relatively straightforward to connect up, requiring just a single pair cable between the Master and Door stations and the fact that this is unpolarised simplifies the connection, however, it is clearly stated that this must be a non-shielded parallel 2-conductor cable not a twisted pair. Distance from Door to Master station can be up to 100 metres with suitable core size or extended to 200 metres with an optional long-distance adaptor.
It was disappointing that the power supply provided was only suitable for DIN rail mounting with no mounting holes for wall or box fixing. The fact that there are only terminal connections for mains input means that a lead must be made up to provide power; while this should be no problem for an installer it is unusual these days for such products not to have a suitably prepared standard power lead. The installation instructions make it clear that the power supply must be installed in "a case for electrical use in an auto extinguishable material…".
On the rear panel of the master station are two centrally located screw terminals for the 24v DC input from the power supply. The connections for the main door station and up to 3 additional doors are through 14 push-fit connectors down the left-hand side of the panel protected by a clear fold-out cover. An 8mm strip-length slot is set beneath the connectors for guidance.
A four-way and a twelve-way connector provide lock relay expansion and alarm handling. The handset which is magnetically held in place connects with an RJ11 connection in the monitor base.
The Master Station is designed to be fitted onto a supplied wall-mounting plate though there is mention of an MCW-S/A desk-mount being available in their on-line specification sheet.
Operation
At first power-up the monitor requests Time & Date details to be entered then once confirmed presents the Home menu screen. It was found that the time & date information only held in memory for one or two days if power was removed so this will need to be re-entered if power is removed for extended periods.
The Video Door Station has a name plate area that is continuously illuminated by a low level of LED light. When the Door Station button is pressed, a bright white LED illuminates the subject and the Video Master Station displays the image and chimes twice. Alongside the image on the right-hand side beneath the time and date and a Record indicator are five large touch buttons for Talk, Lock release 1, Lock release 2, Menu and End. Audio from the door is immediate but only transmitted to the door if the Talk button is pressed for hands free communication or by picking up the handset for private 2-way speech.
Read the full review in the January 2017 edition of PSI magazine here