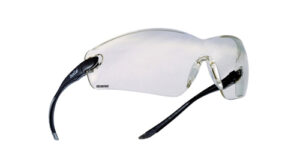 It is estimated that there are 120,000 reported eye-related injuries in the UK with over 70% of these occurring in the workplace, but many of these could have been prevented by the use of appropriate eye protection. Of course employers must take all steps to remove potential hazards and install, where possible, machine guards and screens on equipment that could produce harmful dust, sprays, shavings etc. The second step is to make sure that safety eye protection is worn at all times in areas that are deemed hazardous.
As installers you will all, at some stage, have needed to get the drill out or look through a small hole to fit cabling or wall brackets/panels so in these conditions it is vital that eye protection is used.
In the past there was only a small range of options when it came to eye protection ranging from welding masks and goggles through to the bulky clear plastic eye wear that was routinely given out in factories. Today however there are a host of options with various frames, lenses and styles to suit a number of different applications and environments.
One manufacturer of safety eyewear is Bolle, a French business that continues to research and develop in the field of safety eyewear. All their glasses are optical quality 1 meaning they can be used for continual work and exceed all the industry safety standards. Supplied in the UK by distributor Nothing But Safety Glasses, there are over 30 styles of Bolle safety glasses in the portfolio. For this review we looked at a few of the pairs that would be of interest to the security installer.
The glasses
 First up was the Cobra (pictured). This is available with varying lens types (clear, yellow, smoke, HD and more) however the version tested featured a contrast lens for protection against UV and solar radiation. Described as an all-rounder with a panoramic 180° field, the glasses weigh around 25g and have an anti-scratch outer coating with anti-fog coating inside the lens. Impact resistance is suitable for everyday wear and the frame features non-slip nose and arms, so this would be the style aimed at installers. The Cobra has also been designed to be adapted into safety goggles.
The second pair reviewed was the Squale over-spectacle/visitor safety glasses. These are designed to fit over traditional prescription glasses and feature a broad brow guard, vented side guards and another guard underneath to completely enclose the eye area. This pair also has anti-fog, anti-static and anti-scratch lenses and features retractable arms to make them suitable for visitors; one size fits all. Weighing 43g these are heavier than the Cobra and are available with clear or welding lenses.
Both pairs of glasses are supplied with an adjustable cord to keep the eyewear firm to the face when looking down and around.
Read the full review in the April edition of PSI magazine and you could win a free pair of safety glasses