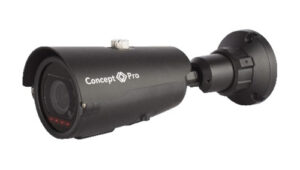 This camera is promoted as an ONVIF compliant 4MP 2.8 – 12mm motorized zoom lens weatherproof bullet camera with 35m IR range, suitable for short to medium range applications. It is the in-house brand from the distributor Videcon.
The camera housing is IP66 rated and therefore is suitable for internal and external use. A 4MP 1/3" CMOS sensor provides images of up to 2560 x 1440 pixels at 20fps with 3MP and 1080P options at up to 30fps. A motorised 2.8mm to 12mm lens with one-shot focus simplifies the installation effort. Smart IR support is rated to 35 metres. Power is via PoE or external 12v DC; Power is 10W maximum including LEDs and heater. Internal memory card capacity of up to 64GB for edge storage.
Software
The supplied disc included a range of folders and files that did not seem to have been compiled with any logical structure or sufficient explanatory notes. Six top level folders were titled Adobe Flash Player, Adobe Acrobat Reader, Documentation, IMS (Inview Management Station), Tool and Update Tool. With the first two being self-explanatory the Documentation folder included an IMS Operation Guide and two versions of their Web Operations Guide (Camera set-up). The Web Operation guides were a useable V1.9 dated August 2014 and an apparently irrelevant V1.8 incorrectly dated May 2015 on the front cover and not relating to the installed firmware browser presentation style. Sub folders provided some IP support help files and an ONVIF-sourced help document.
The IMS folder provided an executable that acts as a licence-free application for accessing Concept-Pro NVRs and Cameras. This includes facilities for multiple camera layouts and recorded image playback by time selection or alarm search.
The Tool folder included sub folders for an IP Search Tool that required the IP range once entered to be added to a secondary selection box before a search is started. This is not very intuitive and took some time to work out in the absence of any instructions however it discovered the camera and allowed modification of basic camera network settings.
Further sub-folders included an RTSP tool, an SD Driver, SNMedia Player and a Time Tool where only the Time synchronisation tool had any reasonable support documents.
Some attention to appropriate detail and selection of the right documents is needed to suit the likely audience for this information.
Read the full review in the February edition of PSI magazine