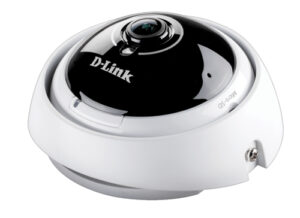 Promoted as part of the "Vigilance" range, this is a Full HD Panoramic PoE camera; the unit is based around a 1/3.2" 3MP sensor with a 1.1mm F2.0 fisheye lens. It is ONVIF compliant with a stated resolution of up to 1920 x 1536 pixels for video and snapshots. Compression is H.264 or Motion JPEG. Motion detection activated recording to Micro SD card of up to 128GB capacity is supported.
Getting started
The camera is PoE capable or can alternatively be powered from a 12v 1.5A supply, maximum power is stated as 4.6W. DHCP is enabled by default so the camera will take an allocated IP address or use its factory default of 192.168.0.20.
The Quick Installation Guide advises you to run the software on the supplied disc. This begins a 'wizard' that steers you through the initial setup process but oddly does not force you to enter a device password. Once the initial settings are established then you are advised to communicate with the camera via the web browser which gives access to the full menu options. At this stage a password is required to be set.
While the camera is rather small at just 97mm diameter x 49mm height there is a large cylindrical block measuring 77mm x 27mm diameter around the connection leads that appears to contain the active PoE components along with a recessed reset button. This clearly requires a large access hole for the cables and block to be fed through.
Operation
The supplied D-View DCS-100 software allows selection of up to 32 network cameras with multiple screen layouts and control of the camera's electronic PTZ functions but did not appear to allow selection of individual views and only showed the screen view selected by the browser. The DCS-100 User Manual doesn't refer to this form of camera so there is no mention of image de-warping or relevant view selection.
The browser options are given as IE, Firefox and Safari but varying results were obtained with different browser and operating system combinations so it may be that the camera hasn't been fully tested with a range of such options on 'clean' PCs. As long as used with a single system this should not present a problem to the user.
When tested with a third-party NVR using ONVIF connectivity the results were quite acceptable with good overall image quality but the maximum resolution of the sensor meant that when electronically zoomed-in the images became increasingly pixelated. However, to provide simple quad or nine-way views of a room the results were very useable.
Preset views are easy to set up and can be called or sequenced, although speed options from 1 to 5 were given, no noticeable change in sequence time was observed when running.
The camera runs rather warm with a base temperature measured at 48.5°C during day-time operation and up to 57.6°C with the LEDs on. The specification states an ambient operating temperature range of 0 to 40°C.
A bright green LED flashes to indicate network connection status but this can be turned off within the camera's Maintenance settings.
Read the full review in the May 2018 edition of PSI magazine