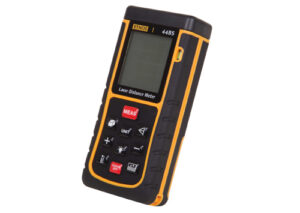 There cannot be a toolbox in the business that does not contain at least one tape measure and while these are staples of the tradesman's kit they can be a bit of a pain when quoting for jobs that require multiple measurements being taken at a time. Thankfully there is an alternative for those who have ever had a tape snap back on them or had trouble getting the tape edge to stay in place. The alternative is the laser distance meter, a tool that uses a timed laser pulse to measure the distance involved and there are plenty on the market to choose from depending on your requirements.
The unit under review here is the Ethos 4485 Laser Distance Meter available in the UK from electrical wholesaler CEF, or City Electrical Factors as you may know them.
Getting started
Quite often when it comes to new technology replacing an established solution there is an element of complication involved however the 4485 needs nothing more than the two supplied batteries being inserted and the lanyard being attached before it is ready to go. There is no calibration required prior to use and the buttons on the front of the unit are clear enough to be able to guess what they will do without looking through the instruction manual.
Performance
With the batteries inserted and the lanyard attached the meter was put to the test. The unit is switched on using the MEAS button and the desired unit of measurement is chosen with UNIT. The choices are metric or imperial in six different formats and the only other decision to make is whether you want the measurement to be taken from the front or back of the unit (described as the reference point in the manual).
By holding the unit level, utilising the small spirit level on the side, then pressing MEAS the reading is taken and shown on the screen, which can be backlit if required. This reading can then be stored (internal capacity is 99 recordings) or used as the first in a series of measurement to reach a total figure. There is no way to download readings to another device/media from the unit or its internal storage.
Other features on the unit are area and volume measurement, continuous measurement and a very handy Pythagoras mode for taking measurements on occasions when the line of sight is blocked, perhaps by pallets etc. This does involve the taking of a number of readings, but the unit does all of the calculations required. The device also has a thread on the reverse so that it can be attached to a tripod/stand should the need arise.
Read the full review in the May 2017 edition of PSI magazine