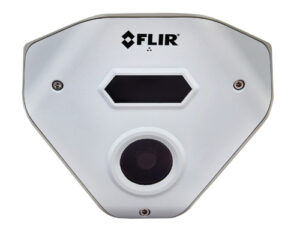 This is an IP66 rated corner mounting 3MP IP camera from the Flir Ariel range with a lens viewing angle designed to provide wall to wall and ceiling to floor coverage of the surveyed area. It has a curved front plate to ensure no grip is possible and that no ligature can be attached. A microphone allows sound to be captured and discrete infrared illumination is available for low or zero visible light use.
Power is by way of PoE drawing just 3.4W in normal operation and 9.4W with heater and IR on. Alarm input and output connections are provided at the camera. The front plate has an above IK10 impact resistant rating of 50 Joules for the viewing and IR windows. Operating temperature range is stated as -40°C to +50°C.
Operation
Unfortunately, the supplied disk was blank so it was not possible to know what documents or files should have been available on this media. Necessary documents were downloaded from the Flir website.
The front cover is held in place with three Torx security screws and a flexible plastic strip is provided to prevent the cover from falling when removed. The importance of installing new desiccant packs is stressed in the manual whenever the camera is closed up.
With a PoE enabled connection to a suitable network the camera by default picks up a DHCP defined IP address. A status LED on the RJ45 connector confirms network activity once connected. The camera identified itself on the test network as being from DVTel; showing its development by this Flir acquisition of a couple of years ago. The user manual refers to DNA (Discovery Network Assistant) software to search for Flir devices and although not provided in this case is available as a Zip file download from the Support section of the Flir website. This software can be run from a disk or memory stick directly with no need to install files onto the PC.
The camera is supplied with a very simple default password and there is no forced requirement to use a strong alternative, the introduction of a more complex password should of course now be standard practice for all installers. A reset button is sited inside the camera and this can be used to either reset the unit or to restore factory default settings.
The camera and its menus are accessed using a browser or supported video management software. In testing the camera proved compatible with Microsoft Edge, Mozilla Firefox and Google Chrome browsers on a Windows 10 PC, with similar results obtained with Windows 8. IE11 on both platforms required an "Ariel Player" add-on to be loaded; this was a simple download from the camera and worked as soon as the browser was restarted. Android and iOS device browsers displayed the live camera image but the iOS suffered from poor text alignment on the Settings menus. Only the IE11 browser presented a microphone icon that allowed the camera sound to be heard. Flir only state that IE10+, Firefox 50+ and Chrome 55+ are supported so the performance with such a range of devices was impressive.
Read the full review in the October 2017 edition of PSI magazine