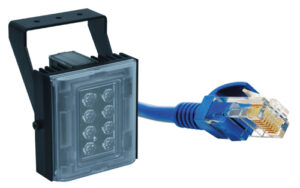 These illuminators are from the Clarius security lighting range but these models are powered by PoE Plus only. This allows a high degree of flexibility in set-up. The IM-8-IP is an infrared version and the VM-CW-IP produces visible light. Both models are based around an array of eight high intensity LED light sources.
Operation
As the illuminator is only powered from PoE Plus it must be connected to a suitable switch port or injector capable of supplying 30 Watts and complying with IEEE802at. The illuminators have a lead of slightly less than 1 metre for these IP versions but this should be sufficient for most installations; it is terminated in an IP68 rated RJ45 connector with its mating plug supplied.
The device has a default IP address of 192.168.0.10 and though DHCP is not enabled, it can be configured via the web browser.
At first power-up, you are required to provide a strong password for the admin user.
A covered four-pole connector is provided on the main body of the device for input /output functions but no mating connector is provided with the illuminator and there is no reference to the type or supplier number for this item.
Browser menu options
Once logged in, the browser provides six drop-down options as follows:
Events – Enable/Disable the Photocell and add other event types and resultant actions.
LED settings – Standard, Energy saving and Boost power levels and timing.
Unit configuration – DHCP, IP settings, DNS and port settings. HTTPS certificates and Login.
Import and export settings – Download and Upload configuration settings as .cfg file.
Firmware update – Displays the current firmware version and allows file upload.
Logout – This tab immediately logs the user out and returns to the Login screen.
Events in default mode simply allows the Photocell action to be configured but an interesting range of events can be set relating to temperature range and contact input that can trigger illumination, contact output or communication with certain cameras and recorders. At this time, no detailed support information appears to be available but with some experimentation a good range of control can be associated with the contact input.
The LED option page shows real-time lamp On/Off status along with an Ambient light value showing a two digit value or >100 lux result. It can be set to operate from 20 to 70 Lux.
Operating temperature is also given in °C. Button Controls allow the lamp to be turned on or off in each of the three energy modes with slider controls for each energy level from 0 to 100%. A Strobe mode can be actioned although there is no reason given for its intended use. It is perhaps useful for device identification or could be used as a visible deterrent with the white light version of the illuminator. A Digital Output button pair allows the contact Open/Close state to be tested; this was found to change from Open Circuit to around 35 ohms when Close was selected; no equivalent output circuit diagram was provided.
The configuration options provide conventional TCP/IP addressing but only for IPv4 not IPv6. The Login option did not appear to allow the user name to be changed from the default admin but the password could be changed as long as a strong word of at least 8 characters and three content types is used. No on-screen prompts were given though and no information on this feature was provided in the product documentation or apparently available online.
Exported settings are saved as a .cfg file using free text. This file uses "settings_" and the device MAC address as the file name but this can be changed prior to saving. The file can also be manually edited before being imported back into a device. Oddly, prior to saving, the file is referenced as being "From: about:blob" this looks a little unprofessional but may result from the third-party sourcing of the internal TCP/IP module.
A Help tab on the Login page gives details on recovering from a lost password by resetting the unit.
Edge, Chrome and Firefox browsers operating under Windows operating systems all worked with identical results. No access could be gained from iOS or Android tablets on a wireless connected network, but an iOS based mobile phone browser did connect to the device. At this time there appear to be no suitable apps available for such connection and control.
Read the full review in the July 2017 edition of PSI magazine