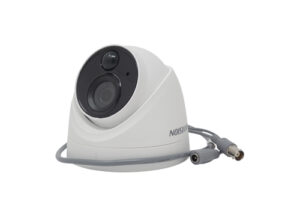 The Hikvision DS-2CE71H0T-PIRLO is an IP67 "Turret" style, 5MP CMOS analogue camera with true day /night switching and a built in passive infrared motion detector, infrared illumination and a white LED that can be used for continuous or strobe lighting on alarm.
Getting started
 The camera simply requires a 12volt DC power supply and coax connection to a compatible TVI recorder. The available information in the manuals is quite basic and some can be misleading such as the Day to Night and Night to Day settings from 0 to 9 with the higher values stated to make the camera more sensitive rather than simply the switching point. Similarly, for Smart IR the range of 0 to 3 is given as "the higher the value the more obvious the effects are". It is necessary to work through the available options and find what works best for your intended location.
Menu options
The camera's main menu is displayed on-screen and this can be activated by a compatible TVI recorder or a suitable engineer's test monitor, however, it is likely that the majority of engineer monitors currently available will be limited to a 1080p maximum resolution rather than the camera's default 5MP output.
The Video Setting Image Mode option switched between "Standard" and "High Sat", this has little impact on a well-lit scene. The controls for Brightness etc. had a range of 1 to 9 with all set at 5 by default. The white LED can be triggered to stay on for a period of 5, 10, 15, 30 or 60 seconds. If set to flash the time options are not available and the light flashes for approximately 12 seconds with a flash rate of roughly 4 Hz.
Read the full review in the July 2019 edition of PSI magazine