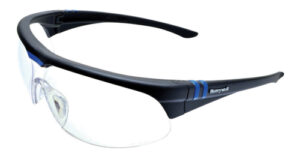 Employers have duties concerning the provision and use of personal protective equipment (PPE) to protect the user against health or safety risks at work. This can include providing items such as safety helmets, gloves, eye protection, high-visibility clothing, safety footwear and safety harnesses. It also includes respiratory protective equipment (RPE).
A look through the news archives on the Health & Safety Executive (HSE) website gives stark warning to companies about providing workers with all of the relevant PPE needed to fulfil their duties with many tales of hefty fines and court cases against negligent employers.
Fortunately safety equipment itself has moved on from the early days of H&S with many of the latest lines looking nothing like the bulky, awkward and often ill-fitting products of the past. One such area that has seen major user-friendly improvements is that of safety eyewear.
Honeywell's Millennia 2G eyewear is listed as offering workers "a new stylish design combined with the proven comfort and protection qualities of the existing Millennia family".
Apparently the company has spent much time in developing the eyewear as Christine Mello-Blonay, senior product manager for Honeywell Safety Products explains: "By listening carefully to workers' concerns, we have developed a new style that specifically meets their need for simplicity – with no adjustable parts – while ensuring a similar secure and comfortable fit, superior eye and cheek coverage and greater peripheral visibility. Combined with the new sport-inspired styling, Millennia 2G offers an eye protection solution that can boost workers' acceptance of their safety eyewear and supports overall safety".
Which is important as safety eyewear can be a tricky product to ensure employees get into the habit of using especially for those workers that do not normally wear spectacles.
The product
The Millennia 2G features a wraparound lens design to deliver eye and cheek coverage to protect from particulates, dust and impact risks. A shelf-like design along the brow further helps prevent dust from dropping into the frame from above. Comfort is attained with soft, flexible materials built into the frame and temples, while soft nose pads prevent slipping for a secure fit.
The eyewear is available in a black frame and six lens tints, including clear, grey, yellow HDL, silver in/out, IR 3 and IR5. Scratch-resistant on the outside (K on all references) and with anti-fog coating on the inside (N marking – ref: 10 32179, 1032181 & 1032180) the glasses are certified to the requirements of the EN166 standard.
In use
The frames needed no adjustment before wearing so could be used straight from the packaging. We found that the flexible arms enabled a snug fitting without the glasses feeling tight on the head, yet they also remained in place throughout the tasks of the day.
Read the full review in the January 2017 edition of PSI magazine here