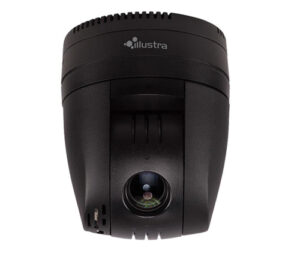 This is an indoor unit from the Illustra IP dome series, with a 30x zoom lens and 2MP HD resolution. This particular variant of the dome is for internal use only and has a black finish with a plastic surround to the camera module and metal side plates that cover the electronics to one side and the assembly gearing at the other. It has no transparent bubble to surround it so there is no curved surface to impact the image quality. It has a 6" (154mm) diameter and is 7" (178mm) in height.
Usefully it can be stood on the three mounting screw heads that secure it to the base plate for testing or set-up, with ample room for the network and power leads.
Software
The supplied disc has three folders named as "Illustra Connect" which holds the network discovery software, its support files and multi-language manuals. "Illustra Pro PTZ" holds the Quick Start Guides and User Guides for the domes in multiple languages. A final "Regulatory folder holds a single multi-language product safety and regulatory notes document. Documentation is supplied in eighteen language variants.
The 67-page Illustra Connect User Guide instructs how to install and use the Connect software which is basically an ONVIF compliant discovery tool that allows basic configuration of the domes settings. All main configuration is performed via a suitable Web browser.
The English Configuration and User Guide is 153 pages long and reasonably comprehensive although unlike the other supplied documents there was no chapter index, just the pdf bookmarks.
Operation
The dome can be powered from PoE but this must be PoE Plus capable of 25.5W. Alternatively a 24v AC (22-30v) power supply can be used. Maximum current is stated as 1.4 Amp but in normal operation was found to be under 500mA for this indoor version. If both PoE and external power are connected then the dome will take its power from the first connected supply and the secondary can be used as a back-up supply in case the first source fails.
When powered up there is a delay of around 90 seconds for initialisation before the dome's position calibration routine begins. This finishes after approximately 30 seconds more at which point the fan operates. The fan is relatively noisy and runs constantly but should not be too loud when the dome is installed at ceiling height.
The dome can be accessed via a web browser; Edge, Chrome and Firefox variants were successfully used but the image displays in a restricted mode without QuickTime. As QuickTime is no longer supported by Apple, this message should perhaps be modified in a future firmware update.
Some frustration regarding settings was encountered particularly with regard to Time and Date adjustment and occasional image freezing but this was put down to local browser issues. Operatio with an ONVIF compliant NVR did not show any such problems.
Even without QuickTime, the image provided was found to be perfectly useable for image set-up and camera configuration purposes.
Read the full review in the June 2017 edition of PSI magazine