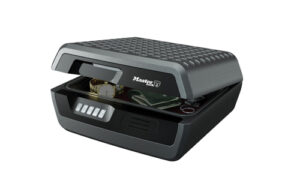 While most of the work installers carry out will be invoiced at a later date there are still people that occasionally pay cash for work carried out at their premises, especially when the work is a domestic job. In this scenario it is possible that the trade van could not only be carrying expensive tools that could be stolen, but also cash that is much easier to shift.
Carrying bulky amounts of cash on your person while working is not a good idea either as it not only impedes your movement but also makes it much easier to lose – how many screwdrivers have you left behind, for example?
One solution that is much more secure than putting valuables into your glove box is the CHW30300EURHR0 Digital Security Chest from Master Lock. It not only keeps items locked away but is also listed as combatting against fire and flooding, offering protection even in the most extreme emergencies.
The product is designed to preserve digital hard drives, electronic equipment, documents, photo albums, money, jewellery and more and is listed as being able to endure temperatures up to 843°C for 30 minutes protecting the stored contents (reportedly keeping items at 177°C) and it is ETL (Electrical Testing Laboratory) verified. Valuables are protected against water damage as, if submerged, the product will just float to the surface.
The chest can be programmed with a combination code from four to six digits meaning multiple different users can be granted entry after each use by resetting the numerical password. It has an internal capacity of 10.2 litres and weighs 10.9 kg. This model is available in charcoal grey and black.
One point that is quite impressive is that in the event of a fire the company provides a guarantee meaning that it will replace a product like-for-like.
Read the full review in the February 2019 edition of PSI magazine