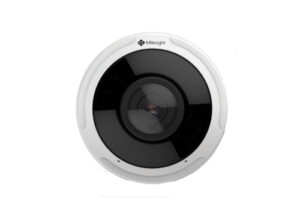 This is a low-profile 180° "Fisheye" ONVIF compliant camera based around a 12MP 1/1.7" CMOS sensor, a 1.98mm F2.8 lens and inbuilt infrared LEDs providing up to 15 metres coverage. Alarm input and output connections are provided along with an audio output. An internal microphone provides audio input. The casing is IP67 rated and IK09 impact resistant. The camera is exclusively available to the UK trade from Acam Technology.
Getting started
The camera can be powered from a PoE enabled switch port or fed from a 12v DC power supply. A "Smart Tools" program is available on the Milesight website that discovers their products on the network and can be used to identify and change the IP address to suit the network addressing scheme.
Connection by browser is straightforward and at first connection a prompt to load an ActiveX component is given, this loaded and ran correctly on both a Windows 8 and 10 PC running IE11. A warning to replace the default password is given at each time of connection until this is changed.
While the manual states that IE, Firefox, Chrome and Safari browsers are supported, only IE11 was found to work with the ActiveX component download, all others including Edge on Win10 operated sufficiently but with MJPEG image display. The web component on-screen display shows stream information including, Bitrate, Frame rate, Resolution, Video Codec (H.264 or H.265), Smart Stream and number of Current Connections. These details are very useful for confirmation of stream configuration and basic network performance.
Menu options
From the browser screen the Configuration link is in the bottom left corner and this button activation replaces the live view with a menu pane with the command options down the left-hand side and the related settings occupying the rest of the pane. From the top these options are:
Live Video: – returns to the live image display.
Playback: – shows a simple replay interface for any SD card recordings.
Basic Settings: – Video stream and image format, Audio management, Network settings and Date & Time.
Advanced Settings: – Alarm, Storage, Security, SIP, Fisheye and Logs.
System: – General system information, including uptime.
Maintenance: – System maintenance, Firmware update, Defaults and Auto reboot scheduling.
Additional live-screen icons provide functions to Stop or Play the stream, Mute or Enable Audio, take a screen Snapshot, Record a video clip and specify its storage location, Digital Zoom, Enable microphone for outbound audio and a series of slider controls for image brightness, contrast etc.
To the right of the video pane are a set of controls to define the installation mode of the camera, i.e. Ceiling, Wall or Desk mounted along with the preferred Display format of Original Fisheye view, single 360° Panoramic, 2 x 180° Panoramic, Four regions, Original + 3 regions or Panoramic + 3 regions.
The camera has two video streams; Primary supports resolutions of 4000 x 3000, 3000 x 3000, 2560 x 2560, 1920 x 1920 or 1280 x 1280. The secondary stream has 1280 x 960, 1024 x 1024, 720 x 720 or 320 x 320. Both can be streamed from 1 to 25 fps. In addition to the full resolution, regions of interest can be streamed to reduce bandwidth usage. Any necessary privacy zones can be set on the original fisheye image. Along with H.264 compression, streams can be configured for H.265 and H.265+ for even higher rates of compression for lower bandwidth and reduced storage requirements.
Network settings cover general TCP/IP, HTTP, RTSP, UPnP, DDNS, E-Mail, FTP, VLAN, PPPoE, SNMP and 802.1x. The alarm options allow for Motion Detection within a user defined area of the screen, Audio level detection, External contact input and "Other" alarms such as Network loss or IP address conflict.
Read the full review in the October 2018 edition of PSI magazine