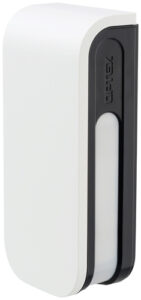 This is a wall or pole mountable IP55 outdoor "curtain" PIR intrusion detector that has dual narrow passive infrared detection zones either side of the device. Intended for example to cover side walls of buildings in order to trigger an alarm when people approach too close to the property. These side zones have a range of up to 12 metres, giving a coverage of up to 24 metres in total. The appearance is similar to some lighting units so may not be immediately recognisable to potential intruders as an alarm device.
Getting started
The top cover is removed by a simple quarter turn rotation of a slotted release mechanism. There is no secure fixing. Power supply can be from 9.5 to 18 volts D.C. with a current demand of approximately 34mA at 12v.
The Optex website includes some information that is not included on the multi-language Quick Reference installation instructions that are included with the product. A QR code on the front panel also gives access to this on-line information for mobile phone access. Some of this information is animated to help explain the features and settings but it would perhaps be beneficial to have a printable manual with more information rather than just a pdf for download of the Quick Reference sheet.
Hardware
Alarm cable entry is via a hole near the top of the back cover with a knock-out section for an additional cable. Alternatively, this aperture can be enlarged. There is no space for this entry point to be fitted with a cable compression gland and although a small "wiring sponge" is fitted into this aperture some sealant will likely be necessary when used outdoors as the entry point is just above the 9-way connector block that links the power and alarm contacts. End-of-line resistors can be added to the connectors or an optional four pin resistor pack can be inserted into a socket mounted just below the main connectors. The resistor pack assumes common rather than individual alarm outputs.
There are two drill-through holes for wall mounting the unit plus another two for the optional pole mounting plate. These would also need to be carefully sealed to cope with typical UK and European seasonal variations.
An optional back-box is available that allows for conduit entry. A small spirit-level is set into the casing (and back-box) to help verify the unit is mounted level horizontally.
Read the full review in the December 2019 edition of PSI magazine