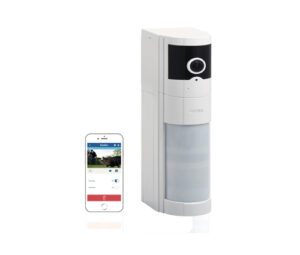 The VXI-CMOD is a camera module designed to fit on top of the Optex VXI range of external PIR sensors to provide visual verification of intrusion. It has a wide viewing angle of 180°H x 100°V. Apps for iOS and Android allow live viewing and Alarm events to be notified remotely and viewed by up to three concurrent users. Notifications can be routed directly to a mobile device or if an alarm panel is used by SMS.
Getting started
The VXI unit must be disassembled to allow fitting of the camera module. A terminal PCB is supplied with a double-sided tape backing, so that it can be secured within the rear housing of the PIR sensor.
With the rear-housing's top plate removed, a knock-out must be removed to allow the camera's ribbon cable to be fed through to connect it to the terminal PCB. The terminal PCB requires alarm, optional tamper and power connections to be wired to the top connector on the VXI sensor and 12v power is then fed through this terminal PCB to both units. As the VXI-ST only draws 20mA at 12v DC you must ensure any existing PSU is rated for the additional demand of the camera with its IR LEDs on. Alternatively, the camera can be separately supplied from a PSU of 9.5 to 24v. For the VXI-ST version the Tamper is not used.
Further terminals are available to feed the alarm connections into an alarm panel if used. The power and alarm interconnection cabling is not provided.
The "Installation & Operation Manual" is a single large (A3) sheet with diagrams showing the necessary assembly and wiring instructions, a copy is available as a pdf through the Optex website.
Hardware
The various items are well designed and though some careful manipulation is required to remove the plastic covers, everything fits together precisely.
Read the full review in the September edition of PSI magazine