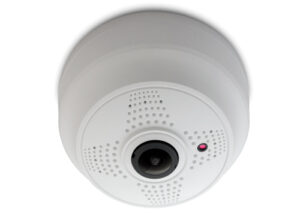 This unit is promoted as a 5MP 360° "Fisheye" dome camera for internal use – allowing a single camera to cover a whole room from the centre without blind-spots.
Using PoE, the camera is very easy to install and having such a wide viewing angle should need no physical adjustment. All settings can then be undertaken from the control position or remotely if a suitable connection is available.
The supplied disk holds installation and user manuals for a range of VK2 products and support software. The camera takes around a minute to boot-up. It has no visible indicators during this phase or when operating.
The Vista disk includes "SmartManager" software that can be used to discover compatible or ONVIF compliant devices on the network. This allows the user to change from the dome's default DHCP setting to a suitable fixed IP address to suit the addressing scheme being used. This is relatively straightforward to operate but reference to the manual was required for a couple of functions. The English translation of this manual was lacking in quite a few areas but the camera specific manuals were generally good.
VK2 client software is also included on the disk. This has facilities for multi-camera display layouts and can be used to display "Panomorph" (de-warped) images or other display formats from the dome.
Menu Options
The client software gives access to either a remote setup or to open the device web page. Alternatively, the device's web page can be opened from a conventional web browser. At first use, a prompt is given to download an ActiveX component for the video.
Although the manual states that multiple Windows versions and various browser types are supported, variable results were encountered, such as only being able to access the full playback options and motion detection set-up when using Microsoft's Internet Explorer. Google Chrome and Mozilla Firefox did not have this function or give all camera options.
A set of Basic Configuration settings for Users, Network, Video & Image, Audio and Date & Time are sufficient to get the camera running in a simple mode. Extended options for Video & Image, Event and System allow more complex camera settings, analytics, security and network configurations to be implemented.
Although there was some apparent repetition of menu pages between the Basic and Extended configuration options, all were clearly laid out and logical. The camera includes good browser help files for reference during configuration.
Hardware
The multi-core connection cable includes an RJ45 for Ethernet connection, a 12v DC jack, 3 pin alarm input and output, 2 pin line audio input and 2 pin audio line output connectors.
The dome top cover removes relatively easily and reveals a well laid out main circuit board of 43 x 43 mm surrounded by an aluminium heatsink that fills the rest of the body of the dome. A cut-out in this heatsink allows access to the micro SD card holder and a power-on reset switch that are mounted on an equally sized connections PCB that is fixed to the underside of the main PCB. The micro SD card that can be up to 64GB should ideally be inserted before installation, as the fitting can be quite tricky, especially if the camera is mounted at high level.
In operation the internal temperature was between 46°C and 49°C for the main processing components and heatsink in an ambient of 25°C. This is typical for such technology.
Read the full review in the July 2016 edition of PSI magazine