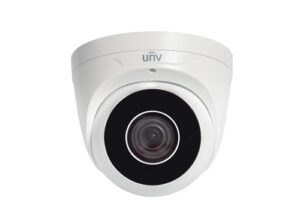 This IP "Eyeball" style Day /Night IR camera is based around a 5MP "Starlight" 1/2.7" sensor and has a 5x motorised zoom lens. It is IP67 rated and ONVIF compliant. Operating temperature is stated as an impressive -40° to +60° C.
Getting started
The camera is PoE fed (8.16W) or can be supplied from a 12v ± 25% PSU. When connected to a PoE enabled switch, the supplied model did not receive a DHCP address and did not have one of the two possible IP addresses stated in the quick guide. Network analysis showed it had been given a static IP address in the 172.016.xxx.xxx range with appropriate subnet mask. It seems likely that the camera had been operated on a supplier or distributor's network and not factory defaulted afterwards. EZStation or EZTools software is available from the manufacturer's website to identify and change IP addresses.
When accessed via browser the user is always prompted to change the password if left at the default but this instruction can be ignored. The camera is ONVIF compliant and was easily added to an alternative manufacturer's NVR.
The "eyeball" globe of the camera is held in place on the mounting base by a surround that is locked by a single securing screw. Simply untightening this allows the globe to be positioned to suit the viewing angle required. The outer ring can be removed by rotating the surround until the screw is in line with the cable access position at which point it can be detached. Care must be taken not to fully remove the securing screw as it is not captive; it can be easily refitted but is a reverse thread from the direction of the screws head.
The camera's datasheet helpfully gives target distances for the standards of Detect, Observe, Recognise and Identify but it was found that these were probably based on pixel count at the full resolution i.e. >4mm per pixel for "Identify", rather than a screen percentage. This means that while true for reviewing recorded images, for "Identify" a subject would only occupy around 15% of screen height so would not meet a real-world criterion of "Identify" on the majority of security system monitors.
The Uniview website has download options for EZPlayer software for replaying of their native ".ts" and ".uvrd" video files, though this was found to have limited replay functionality beyond basic forward play and speed control. Additionally, the Uniview SDK can be freely downloaded if required.
Read the full review in the September 2018 edition of PSI magazine