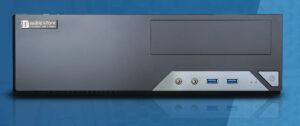 The Wavestore P-Series appliance is based on conventional PC hardware running a Linux operating system and Wavestore's Video Management Software. The system is stated to offer a robust one-box solution for a range of security applications, handling up to 24 IP cameras with up to 12TB of internal storage (up to 2 drives) and 300Mb/s throughput.
Features
The NVR is based on a Mitac micro ATX motherboard with an Intel i5 processor and NVidia GeForce GT730 graphics card. Two thumbwheel screws hold the top cover in place. Once removed a top release latch can be pressed allowing the lid to slide off the casing. Inside all of the components are well laid out with cables tidily dressed. One of the motherboard mounting screws was found to be floating loose beneath the motherboard and on close inspection was found to have had its thread stripped so probably an assembly error that got through. Fortunately, it was picked up before powering the unit on.
A fold-out sub chassis holds the hard drives in place; for the reviewed sample a Western Digital "Purple" 1TB drive was fitted for image storage with a 60GB SSD for the operating system and program files.4GB of Kingston branded RAM was fitted.
Software
The supplied DVD disc includes a 404-page Video Management System manual and a two-page ONVIF document. Although quick installer, start and user guides were referenced on the disc, they each had zero contents so were not available. No manuals or guides appeared to be available from the Wavestore website but it may be that these are only available through the registered partner pages.
A link to a list of compatible cameras was included in the manual but this led to an error 404 "Page not found" message. A search did lead to a page of camera partners.
The rest of the disc contained a full suite of Linux files allowing the capability of a full re-install if that should be deemed necessary in future.
Find out what we thought of the product in the October 2016 edition of PSI magazine