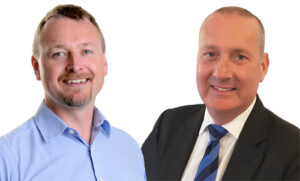 Texecom has appointed Mark Douglas as Sales Director and Michael Stembridge as Technical Director.
Mark joins Texecom from Pareto Law, where he was responsible for development and delivery of a range of sales training and development programmes. Prior to Pareto, Mark held senior Sales Director roles with HRS UK, American Express and the UK Post Office. Mark has a degree in Economics from Liverpool University.
Commenting on Mark's appointment Jim Ludwig, Managing Director said:  "Mark's experience developing sales team talent, success in developing new sales markets and channels, and his fresh perspective will help Texecom fulfil our goal of adding value above and beyond traditional intrusion systems".
Michael Stembridge joins Texecom from sister Halma company Avire, a manufacturer of safety, display and monitoring solutions for elevators, where he held the role of Global Technical Director.  Michael has previously held roles with Imtech Traffic & Infra (Divisional R&D Director and UK Engineering Director roles), Racal Acoustics (Head of Engineering and Engineering Programme Manager), and Ultra Electronics (PMES) Limited. Michael holds a first class honours degree in electronic engineering from Bolton University.
Commenting on Michael's appointment, Jim Ludwig said: "Michael is a great addition to our team, at an important juncture in our history as the types of products and technologies we are developing is changing more rapidly than ever before. Together with his technical skills Michael brings a global mindset and a wealth of experience, which will help us to deliver innovative new products and solutions to our customers around the world".