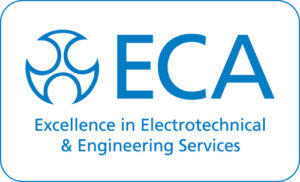 Two key new appointments have enhanced the ECA's executive team of directors. Andrew Eldred has joined as the new Director of Employment and Skills, while Steve Martin has been promoted to Director of Technical.
Andrew Eldred joins the ECA from Crossrail, where he was head of employee relations for four and a half years. He has an array of industry experience, having also worked for the Olympic Delivery Authority's delivery partner, and also for industry body BESA.
Andrew is currently working alongside existing Director of Employment and Skills Alex Meikle until the end of next month, when Alex retires from the role.
Andrew commented: "I am pleased to take up this exciting role at the ECA. Having worked in a number of roles in the sector, this represents an ideal opportunity to help drive the ECA's skills and employment agenda forward. I am working very closely with Alex Meikle, until he steps down later in the year."
Steve Martin has an established industry background and is an experienced engineer. He has worked for the ECA in a number of roles, including most recently head of technical, and also head of specialist groups. He takes up the position following the departure of Jim O'Neil earlier in the year.
Steve said of the appointment: "The key to any trade association in our industry is its technical offering, and I am pleased to be taking the reins at the ECA. We have further plans to enhance our technical team in the coming months, placing the ECA as undoubtedly the go-to trade body on technical issues."
ECA CEO Steve Bratt said: "I am delighted to announce that Steve Martin and Andrew Eldred have joined the ECA's team of directors. These appointments mean we have a strong leadership team in place, which can help the ECA power ahead and lead the engineering services industry to success."
The new appointments join the existing team of directors, led by CEO Steve Bratt. The top team also consists of Paul Reeve (Director of Business and External Affairs), Helen Atkinson (Director of Member Services), and Martyn Burnley (Finance Director).