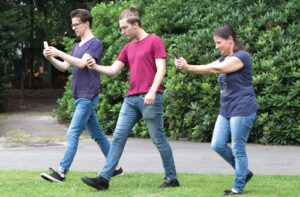 When security operators at Farsight Security Services received an alarm in the early hours of Saturday 23 July standard procedures were followed to identify and address the cause.
Upon reviewing CCTV footage from the alarm, operators spotted three individuals acting suspiciously, using their mobile phones to navigate the site. With CCTV footage being viewed live, the police were notified and despatched to the site.
On arrival, the police confronted the individuals and escorted them from the site, issuing each with a warning.
At first, nothing about this incident stands out as particularly remarkable. However, in this particular incident the intruders had a new explanation for their presence. Upon being questioned, the individuals revealed they had been playing the augmented reality game PokémonGO.
So far the game has reportedly had over 75 million downloads and although PokémonGO blurs the lines between reality and unreality, some of the security problems it is causing are very real indeed. The immediate safety issues posed by the game are clear. Headlines have told the story of players robbed of their phones as they look for their next Pokémon. One story even claimed teenagers had been caught in choppy waters trying to catch the virtual creatures off the coast of Hastings.
However, security concerns stretch from beyond the individual to businesses and private residences too – as the incident encountered by Farsight goes to show.
Even the police have been affected. Recently PokémonGO triggered a terrorism security alert after dozens of players descended on Leicestershire Police's headquarters, clutching their phones and taking photos.
Police chiefs had to issue a warning to PokémonGO gamers to be mindful of their actions given the security threat levels around civic buildings such as police stations.
Malcolm O'Shea-Barnes, senior operations manager at Farsight Security Services, explained: "The virtual creatures found in PokémonGO can be found anywhere and in-game features can be accessed at locations called 'PokéStops'. These can be located on private property and players locate them using their mobile phones.
"It's quite clear what security risks businesses could face from individuals attempting to access a site to catch Pokémon or reach PokéStops. Not only could this lead to individuals breaking and entering, leaving a site vulnerable, it could also be a safety risk to those trespassing on the site. Many sites we monitor pose serious safety issues to those without the correct PPE. Trespassers could put themselves in harm's way attempting to access private property – in many circumstances security isn't simply in place to keep valuable goods safe, it's often in the best interests of the public too.
"Although likely done naïve of the potential consequences, those illegally entering private premises – whether to play PokémonGO or for any other reason – undermine the security of a site and their own personal safety."
Incidents like the one encountered by Farsight are likely to be picked up by CCTV systems. The least that could happen is a waste of police or business keyholders' time if they are called out following an intrusion by a PokémonGO player.
So what can be done to proactively reduce the security risks posed by PokémonGO, and other similar games?
Malcolm O'Shea-Barnes advises business owners to check whether there is a PokéStop or Gym nearby or on their premises, adding: "Unfortunately there is little that can be done to immediately rectify this but business owners can send a removal request directly to Niantic, PokémonGO's developer."
If end-users express concern regarding PokémonGO, the best advice security professionals can offer is to visit the support website, submit a request and report an issue with a Gym or PokéStop.