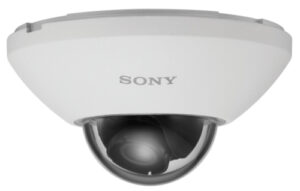 This Sony "IPELA" range unit is a compact wide angle dome that is easy to install and requires very little setting-up to get started. The supplied CD contains an SNC Easy IP Set-up programme (V1.0.1) that can be run directly from the CD or installed onto a laptop and quickly identifies the camera, reporting its IP address, MAC address, DHCP or fixed IP status (DHCP by default), HTTP port number, Model number, Serial number and Version number (2.2.1 in the case of the tested device).
The program allows you to change between DHCP and fixed IP addressing and when changed from DHCP, the IP address, subnet mask and default gateway address can be set. The next option allows the DNS server to be automatically obtained or for the appropriate Primary and Secondary DNS server addresses to be entered.
Next the port can be changed from its default 80 to a manual number in the range 1024 to 65534. Finally the Administrator user name and password can be entered to change from the default "admin, admin".
Once the IP address is established and in the same sub-net as your PC, a standard internet browser can then be used to connect to the dome. This gives access to Live, Playback and Settings menu options. At first connection it is possible that you will be prompted to upload the Sony Corporation SNC ActiveX viewer from the camera but this only takes a few moments and then the camera image can be viewed.
Installation
The camera is simple to operate but is purely PoE driven and has no alternative power arrangements. So for setting up the viewing angle it will be necessary to have a laptop and power injector or to communicate with someone in the control room.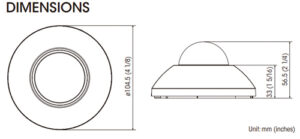 The very wide angle field of view (113° horizontal) and focus optimisation means that just simple 3-axis positioning is required. Narrower viewing angle options are available in the range.
A small notch in the side of the case gives access to a spring clip that prevents the bowl from turning. Once pressed with the point of a screwdriver, the dome bowl can be rotated and removed. A small notch in the base plate must be aligned with a marker on the bowl when refitting. While this is easy on the bench it may be slightly more difficult at ceiling height in low light levels.
There is mention in the installation instruction sheet that one should "Attach the fall-prevention rope (sold separately) to the ceiling or wall and the camera" but with such a light weight unit this is probably just a protective statement for Sony's benefit.
Internally the main PCB is mounted onto a die-cast aluminium plate. A power and a network LED on this PCB identify that the device is powered and active. A power-cycle reset button on the PCB can be used to restore all factory defaults to the unit.
The CMOS image sensor is housed in a small black plastic globe that is held securely by a shroud and ring attached to the backing plate through the PCB. Once the single screw fixing is loosened the globe module can be positioned to suit the mounting orientation and the field of view required.
The range of manual movement is stated as 350° of pan and 60° of tilt and the sensor globe can be rotated through -175° to plus 175°. The tilt angle is adequate due to the extremely wide angle of view provided.
After running for over 30 minutes the back plate had a temperature of 30.4°C in free space so is reasonably thermally efficient. The stated operating ambient temperature range is -10° to +50°C.
The camera has an approximately 15cm flying lead from the rear of the unit terminated in an RJ45 socket for connection to a standard network lead.
A further socket is available for connecting the supplied input output connector lead for external activations. This lead provides a single input that is software switchable between normally open or closed and an output providing an electrically isolated semiconductor relay rated at +/- 50v 0.4A.
An SD card slot on the PCB can accept cards of up to 64GB for edge recording.
While the camera is stated to operate down to 0.3 lux in colour the image was found to be very noisy below 5 lux but for normal office level lighting and above, the images are perfectly reasonable.
Colour and mono modes can be selected automatically below a given light level or activated by the external input however the monochrome mode is simply the removal of the colour components rather than by a switchable IR stop filter so the monochrome sensitivity is still stated as 0.3 lux with simply any chrominance noise removed.
Latency was checked with two versions of browser rather than with dedicated display software but was still around the 300 to 400 millisecond range so perfectly acceptable for a fixed camera.
For close objects during testing, the polycarbonate vandal resistant bowl significantly reduced the image detail but at normal subject distances the effect is negligible and doesn't degrade performance.
Privacy zones are easy to set up with four points for each being dragged to vary the shape, so you are not limited to simple square boxes but in this test case a factory reset was required to remove a final zone once set.
Menu Options
The browser 'Live' tab controls the way the image is displayed such as connection type and size. The 'Playback' tab menu gives access to any recording stored on the SD card and can be searched by 'Time & Date' to review or delete recordings.
The 'Settings' tab controls the camera's configuration and is used to set Administrator level functions. Here the three streams can be manipulated and all network settings and advanced features can be controlled.
Specifications include
HD 1920 x 1080P
ONVIF profile S
F2.0 f=2.8mm lens
113° horizontal viewing angle
3 lux (stated as 50IRE at 30fps)
90dB wide dynamic range
Image stabilisation
Electronic zoom
IK10 impact rating
Triple streaming
Video analytics (motion detection, left or removed object)
On-screen Time & Date and on screen idents (up to 64 characters)
Privacy masking (20 quadrangles)
Conclusion
A small unobtrusive well featured wide-angle dome that is easy to install and commission.
Score 8.5 out of 10