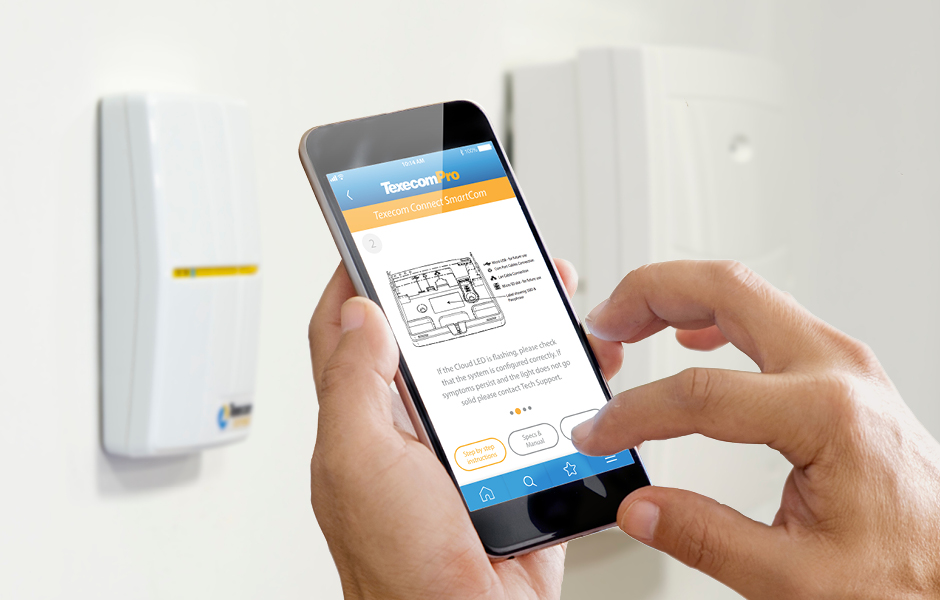 Still in development, the new TexecomPro app will give security installers instant access to the very latest product information, manuals, guides, technical bulletins, news, training and other useful material – as well as access to our Installer Forum – all from a mobile device.
Easy to use and designed to offer fast navigation, it will simplify the process of accessing relevant information quickly. At the moment, much of the traffic to Texecom's website is seeking manuals or specification sheets – the app has therefore been developed to provide a valuable arsenal of information and support which installers can access directly from a mobile in the field.
The app is part of an on-going drive by Texecom to offer the industry's leading level of technical support and customer care.
Key features:
Manuals
Product information and instructions will be accessed by simply scanning the QR code on the product, which will instantly call up all the relevant information. To make this information easily accessible, all product manuals and specifications will be formatted for simple viewing on mobile devices.
News
Users will be able to keep up to date with all the latest news, with real-time updates from Texecom, whether it is new product launches, software updates, interesting case studies, 'how to' guides or blog posts.
Favourites
Documents such as product manuals, guides and technical bulletins can be saved as favourites, making access to them even easier. This feature will also allow specific parts of set-up and configuration documents to be highlighted, ensuring a smoother installation and handover on site.
Forum Access
With over 6,000 members, Texecom's Forum is an essential tool for security installers. The app will give access to the Forum directly from a mobile device, so if an installer has a pressing question while on site, they can simply ask their installer community there and then.
Training Access
Texecom prides itself on the quality of the training it provides to its installers and distributors. With the app users can easily see what training courses are coming up and even book a place. A range of useful quick-start guides and video tutorials will also be available.