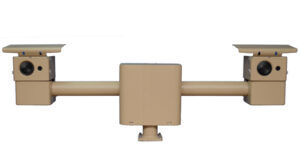 Controp Precision Technologies has introduced 3D-Guard – a 3-dimensional video motion detection system. Designed for the protection of borders, strategic facilities and perimeters, 3D-Guard is a day/night system for 24/7 automatic detection and alert of moving targets/intruders.
According to VP Marketing, Mr. Johnny Carni: "In a time where threats are getting more and more sophisticated and less likely to be detected by traditional technologies – we felt it was necessary to make a leap in technology. Adding the 3rd dimension enables us to provide our clients with a system with a very low percentage of false alarms and a very good probability of detection."
The new system uses algorithms to automatically calculate the data that is collected from the dedicated area and from the target itself – and provides directives for the operator's use. Providing precise indication of target location, size and course of movement, the 3D-Guard system acts as "virtual fence" and can be installed on poles or towers, can operate as a fast deployment system or as a stand-alone solution.  It can be controlled from a central command and control System and due to the automatic detection features of the system, a single operator can control a number of systems over a wide geographic area from a single station.
Comprised of two stationary cameras with fixed fields-of-view, the 3D-Guard has a detection range of up to 1000 metres.