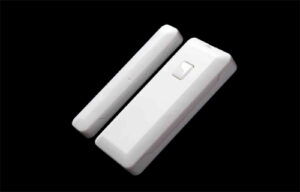 Texecom has announced the Micro Contact-W, the smallest wireless contact that the company has ever made. The unit is so small (57mm x 27.5mm x 8.2mm) it can be concealed within most uPVC window frames for unobtrusive, discreet protection of windows, doors and other items such as drawers and cupboards.
The Micro Contact-W is installed with a single button and has intuitive LED indications to take the installer step-by-step through the installation and commissioning process; trips back to the control panel are no longer required. The contact is part of Texecom's Premier Elite Series and connects via Ricochet Mesh wireless technology.
Further blending into the background, the Micro Contact-W is available in white, brown and anthracite grey, in order to match the most popular uPVC, wooden and aluminium frames and boasts a four-year typical battery life from a single coin-cell battery (CR2450).