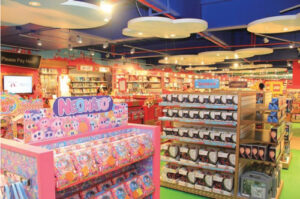 Located in the Antara Mall in the south-west of Mexico City, Hamleys' security infrastructure had to blend in with the toy store design; protecting, but never disturbing, its young and potentially sensitive buyers.
Referring to this challenge of balancing function with design, Guillermo Martinez, Head of SIIDE Ingeniería, said, "It meant a challenge in every sense of the word. At a security level, there must be no blind spots left uncovered. At the same time, as it is critical to maintain the store's children focused design-environment, the cameras should be discrete but fully functional."
In order to meet these demands, surveillance cameras were placed among giant clouds mounted on the ceiling. Working to harmonise with this environment, the natural solution was to adopt Vivotek's fisheye FE8181 camera.
"When we were elaborating our proposal and visualising how to blend in with all the elements of the store, we came up with the design. The 360° cameras are strategically located between the display shelves, the bullet type IB8369 cameras are placed at the sales point to overview the area, and a third type of cameras capture the specific details at the sales points alone", added Guillermo Martinez, from SIIDE Ingenieria.
16 cameras cover the entirety of the facilities (800 square meters). This case was also  interesting for the specifics of the execution, as the contractors of Grupo Sordo Madaleno, together with the integrator SIIDE, had to make a four-meter-deep hole in the mall underpass, in the middle of the car park!