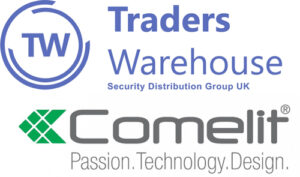 Traders Warehouse is the exclusive distribution partner across five UK branches, to offer Comelit Group's new fire detection solutions.
The security distribution group, already a Comelit Gold Partner, has enhanced its product portfolio by introducing Comelit's range of solutions, including a range of addressable and conventional systems.
Marcus Murphy, Owner of Traders Warehouse says: "As an existing Comelit Gold Partner to present our customers with smart security solutions, we had little hesitation in embracing the products now available in the fire division.  We knew they would be offered with the same focus of futureproof technology, compliance and design.
"We also recognised attention would be given to simplifying the installation process to enable our customers to present a bespoke solution. We're already receiving enquiries with live projects able to utilise Comelit's resources, ranging from small facilities and buildings with simple layouts to large complex multi – network specification requirements."
Francesca Boeris, Managing Director Comelit Group added: "We're delighted for Traders Warehouse to become our exclusive dealership partner for our fire systems; as a great addition to the smart door entry solutions available."