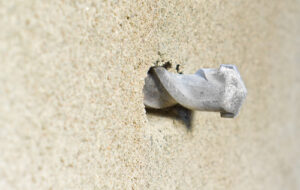 According to the latest survey of UK tradespeople conducted by Festool , 49% of respondents believe the main benefit of using dust extraction is healthy lungs.
To highlight World COPD Day, which takes place on November 15, Festool commissioned the survey to find out how people in the trade felt about the benefits of dust extraction.
COPD, or chronic obstructive pulmonary disease, describes a group of lung conditions that make it difficult to empty air out of the lungs because airways have been narrowed. Those living with COPD may find it difficult to breathe, and can also find everyday tasks a real challenge.
Findings from Festool's survey also highlighted that 20% of respondents believed that cleanliness is the main benefit to using dust extraction, ensuring customers' properties are less impacted by the dust and fewer hours are taken up at the end of the job cleaning up.
The majority (70%) of tradespeople that responded said they use a dust extractor while working. Up to 20% of the length on any project was spent cleaning up after completion, according to one in five of those that didn't use any form of dust extraction.
Jon Burcham, Marketing Manager at Festool, said: "The tradespeople that answered our survey said using a dust extractor drastically reduced the time they spent having to clear up after projects, because the dust is cleaned up as you go, creating a more pleasant and safe working environment. As part of our Breathe Easy campaign, we've been working with the British Lung Foundation over the past year to raise awareness of lung conditions like COPD, which sadly can be particularly prevalent amongst people working in dusty environments."
Dr Penny Woods, Chief Executive of the British Lung Foundation, said: "As part of World COPD Day this year, we are keen to dispel the common misconception that COPD is an older person's disease, solely caused by smoking, with our 'many faces of COPD' campaign. About 15–20% of COPD cases are due to occupational exposures to pollutants at the workplace.."
The survey concluded that 97% of people would recommend the use of a dust extractor to help with the time efficiency of jobs, together with many health benefits. Nine people out of 10 believe that using a dust extractor can increase the longevity and life-span of tools and 99% of respondents said using a dust extractor is beneficial to their health.