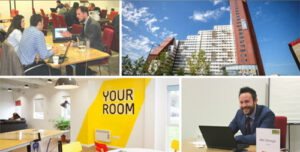 Innovators in the field of building security and fire safety are being asked to pitch their latest ideas to a panel of experts at an Innovation Day to be held Curzon Gateway in Birmingham on Wednesday, 3 May. The event is hosted by Unite Students, the manager and developer of student accommodation, and is aimed at helping companies to showcase their technologies or services direct to the company's procurement, fire safety and security teams.
"Getting in front of the right people at major companies can often be a challenge for many of the most innovative companies," says Unite Students Estates Director, Steve Batley. "But this Innovation Day provides individuals and companies of all sizes with the opportunity to get to meet the right people and demonstrate their very latest product or services, as we are looking for genuinely new and innovative approaches."
Unite Students provides a home to around 50,000 students in more than 140 properties across the UK and is always looking for ways to provide a better and more efficient service to its students. The Fire and Security Innovation Day gives each innovator and potential supplier a 20-minute slot to pitch their new products and services.
To secure a slot at the one-day event, potential suppliers will be asked to make a donation of £50 towards Unite's nominated charity '1625 Independent People', which provides accommodation, support and advice for young single people. There will be a limited number of slots available on the day, and they will be allocated on a first come, first served basis.
"If suppliers have something new and innovative to offer which would benefit our students, then we would like to meet them at the Innovation Day," says Steve.
For more information about the event visit here