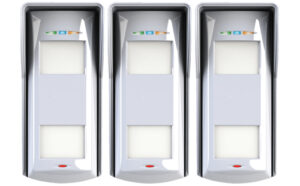 The new low-mount XDL12TT-AM external detector from Pyronix utilises Grade 3 and Grade 4 technologies, as well as Dual-Vision Pet Immunity to deliver all around detection up to 12m.
Consisting of two independent Passive Infrared (PIR) sensors and a microwave sensor in one housing, the Tri-Technology (TT) of the IP55 rated XDL12TT-AM alongside Tri-Signal Detection Logic means that all three sensors need to be activated sequentially in quick succession to create an alarm.
The two PIRs have a dedicated volumetric field of view. The top PIR detects outwards and up, while the bottom PIR detects outwards and down, without either crossing the central horizontal plane between them. This setup of non-overlapping PIR sensors alongside Tri-Signal Detection Logic, delivers secure sequential detection and increases its tolerance to pet immunity, says the company.