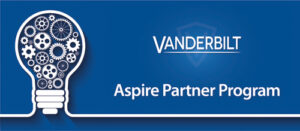 Aspire is Vanderbilt's new partner program aimed at helping installers and distributors perform more efficiently against today's market demands. After a series of acquisitions, the company is now in a position to consolidate the business and the development of customer programs has become a priority. Aspire is the first distinctive mark of this new conscience.
"Aspire's key theme is about a strong and mutually rewarding partnership between Vanderbilt and its customers. The program is open to installers and distributors that do business directly with Vanderbilt, or via a certified distributor and is a major effort by us to broaden our service base and create long-term, incremental value for partners," explains Kim Loy, Director of Marketing.
The program has three membership levels – Registered, Silver, and Gold. Each comes with a higher level of benefits.
"It's not hard to see the economic imperative for signing up to Aspire," continues Kim Loy. "For example, one of the exclusive benefits available to the program's Gold partners is pre-launch access to information related to new products. We offer technology from all three security disciplines, access, intrusion and video on a global basis.  So, early access to any product development information can only improve a partner's possibility to gain in positioning and competitiveness."