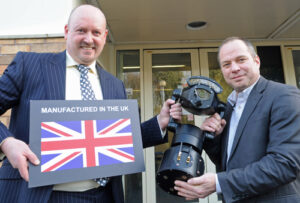 Vemotion has announced a marketing and manufacturing partnership with 360 Vision Technology. The collaboration will mean that all 360 VT Predator cameras now have the option of Vemotion transmission capability, plus access to Vemotion's compression technology, capable of sending high quality images over low bandwidth connections such as GPRS and 3G.
"We have been working on a potential link up with 360 Vision for some time now so we are delighted to be finally able to make this partnership public," said Stewart McCone, CEO of Vemotion.
"It is great to be working with Stewart and Vemotion, to announce such a significant partnership," said Adrian Kirk, Sales Manager for 360 Vision Technology. "As you would imagine there has been a lot of negotiation and behind the scenes work involved, over many months, so it is just very pleasing to see all this hard work come to fruition. Predator and Vemotion combined is big news and together we will be a unique and powerful force in the industry, particularly in challenging, modern open space environments."
A Predator camera using Vemotion technology is described as being a compelling choice when fixed infrastructure is too expensive, where fibre is not an option, or on the occasions where there is a real need to be able to deploy assets somewhere elsewhere at a moment's notice.
"Vemotion thrives without the need for fibre, and coupled with Predator hardware, this is a best in class British CCTV technology partnership, packing a powerful punch," says Stewart. "Local Authorities and others are confronting the unavailability of a fibre backbone in remote areas, while those that do have it are often finding leasing costs prohibitive. Together, Vemotion and 360 Vision can now solve such struggles at a stroke."
Vemotion's technology means that CCTV cameras can be set up in isolated areas and transmit images back to a command centre and doesn't rely on a fast broadband connection to do so.
The Predator is a rugged practical CCTV system which allows operators to take direct action and shine a high intensity spotlight on night time crime.
"It's not every day to major players decide to join forces in this way," adds Stewart. "It's a bit like Microsoft and Apple announcing a partnership. The difference here is both 360 Vision and Vemotion are committed to the very best. Since we have the best technology and they have the best hardware, it just makes sense for us and for customers to see the two work in tandem together."
Pictured (left to right): Adrian Kirk, Sales Manager of 360 Vision Technology and  Stewart McCone, CEO of Vemotion.