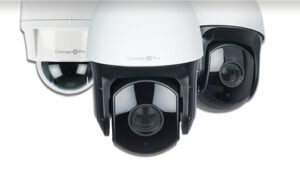 The next generation of Concept Pro PTZs is now available from Videcon. With up to eight alarm inputs and four outputs in the head of the PTZ, 10, 20 and 30x zoom options, seamless integration with legacy installs, low-light capability and an easy upgrade path, the new CP-HSD range has new features that the company believes further enhance the safety of sites and make life easier for the installer.
When added to existing sites with a large amount of alarm triggering devices, the CP-HSD range eliminates the need for an extensive amount of work to take place for installation in the pre-existing system; the cameras are designed with the coverage of a large area in mind, purely because if more alarm triggering devices are set up around a site then the system can cover and protect a larger area. CP-HSDs fall into six varieties, the 10x zoom lens AHD and IP models, the 20x zoom lens AHD and IP models and the 30x zoom lens AHD and IP models. With their higher number of alarm inputs and outputs, the 20x and 30x zoom models are aimed at new, legacy or retrofit installs.
The CP-HSD range operates using Sony Starvis sensors meaning that back-illuminated pixel technology in the sensor with sensitivity of 2000 mV or more per 1 µm2 realises high picture quality in visible-light and near infrared light regions. The back-illuminated structure acquires the image through the back side where there are no obstacles such as wiring or circuits so a wider range of light is collected, which in turn achieves higher sensitivity resulting in colour images for a longer period of time.
The external PTZ cameras have been constructed with interchangeable hardware within the back box of the camera housing to allow the installer to change from AHD to IP or from IP to AHD with ease. Previously a change of this proportion could need a complete change of camera and the need for the camera to be taken down from its position, now, with Concept Pro's Duplex Integration, an installer or engineer can simply change the function box from one platform to the other with ease. Duplex Integration is ideal in situations where an upgrade to a system is required prior to a full-scale upgrade to IP.