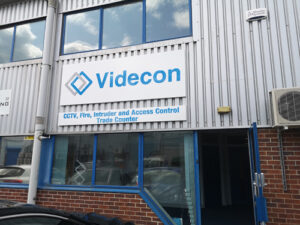 Distributor Videcon has opened a southern office based in Welwyn Garden City. With a fully stocked trade counter, demonstration and training facilities together with experienced staff, the office has been introduced to further enhance its reputation in the South.
Speaking at the opening, Videcon Owner/Director Andy Croston told PSI: "The whole idea is to introduce Videcon and the concept of training and to involve our customers who are operating in the south of the country. We've always been based in West Yorkshire, so Welwyn Garden City seems like the perfect location for us to reach out to anybody south of Watford, who can easily get to this location, so we can train them in fire, CCTV, access control or intruder.
"We will stock good here at the trade counter so any of our customers can collect them directly or we can shift from here, primarily we can ship to anywhere in the UK overnight," said Andy." The synergy between the two Branches will mean it's irrelevant whether you're dealing with the Welwyn Branch or the Head Office Branch; our concern is you've got easy access to somebody who is knowledgeable and knows about our company and our products."
Training has been a major consideration in the design of the Branch with a training/demo room set up on the first floor of the building above the trade counter.
"We've got a location here where we can sit down 10 to 15 people to train them," explained Andy. "We've already got a long list of manufacturers who want to come here and do training days and a list of customers who want to attend. What we're seeing at the moment are our customers wanting to get the younger generation in to us so we can train them, not just once, but so we can set a training program that introduces them to the disciplines that they need and then review it in three months, then in six months and then in a year. This means that by the time they've spent a year with us they will be well-versed in the products and installation tactics."