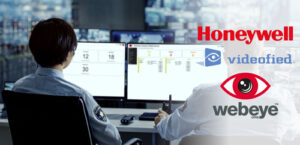 Webeye has announced that Videofied, a brand of Honeywell Homes, will offer the webeyeCMS cloud alarm service as part of its global portfolio.
The webeyeCMS platform, which is integrated with the Videofied alarm system, provides commercial and residential protection and includes a CMS browser and mobile app for either iPhone or Android.
In the initial stages, Videofied will offer a commercial solution incorporating both Videofied hardware and the cloud service to niche sectors like the guarding market.
Videofied will promote the entire solution globally, concentrating particularly on regions outside those already serviced by Webeye, and has agreed to assist Webeye to penetrate markets where they already have a presence. Later plans include a residential offering and multi-language support.
Patrice Colas, Sales Director of Honeywell Homes said, "The Webeye alarm service has eight years of proven reliability and this, combined with our Videofied alarm systems, offers a powerful proposition to many markets."
Clive Mason, Managing Director of Webeye, said "We are honoured to have Honeywell Homes as one of our key partners and look forward to a close working relationship."